Mahalo for agreeing and complying with
the requirements shown on the

previous page

.
(If you arrived at this page directly without first agreeing and complying with the PBX21 health and safety protocols and guidelines, please visit this page before registering.)
Registration Form Information (please read before completing):
During the registration process you will be prompted to select educational sessions and other PBX21 events that you would like to attend. Your selection at this time is optional and will be used to help us gauge interest in each session for planning/room assignment purposes. All of the events are free to attend and are first come first served. Seating in some rooms may be limited. We recommend you arrive at least 5 minutes before scheduled seminar times.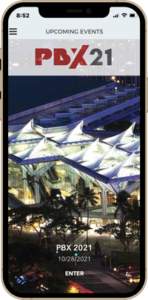 After you have registered you will receive an email with a "Magic Link" to open the ExpoPass mobile app. We strongly encourage use of the mobile app to get the latest updates on PBX21 and to update your sessions for planning purposes. In that same email you will also receive a link to review and make changes to your selected session schedule.
Using the ExpoPass mobile app is the best way to experience PBX21. Once you login to the app (by clicking on the Magic Link and installing it on your mobile device), you can view the complete schedule, sessions, speaker bios, and exhibitors.
Sponsors & Partner Organizations