PBX21 Post-Event CEUs Available!
Mahalo for agreeing and complying with
the requirements shown on the

previous page

.
(If you arrived at this page directly without first agreeing and complying with the PBX21 health and safety protocols and guidelines, please visit this page before registering.)
Need Continuing Education units?
Missed attending PBX21 but need CEUs? Not a problem! You can still obtain continuing education units for eight of our pre-recorded virtual sessions for the low fee of $19 per session. Just complete the registration form below and you will be able to select one or more of the following courses to watch via the ExpoPass website platform: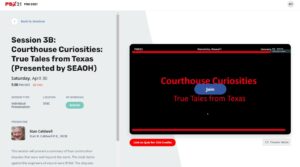 After you have registered you will receive an email with a "Magic Link" to open the ExpoPass web platform. Just click on the link and you'll be able to view the pre-recorded webinar(s) you paid for. After watching the webinar, click on the link in the red button to take the quiz for CEU credits. If you receive a score of 70% or higher, you will receive a PDF certificate of attendance that you can keep for your records and/or submit to your organization as proof of attendance.
Bonus Session! Included with your purchase of any virtual session, you will also have complimentary access to watch the recorded Construction & Design Industry Luncheon: The DPP Revamp: An Update from the Mayor and Director Including New Initiatives.
If you have any questions, please contact Rick Myers (rick@pbxhawaii.com) or David Kaahaaina (david@pbxhawaii.com). For technical-related questions, contact our PBX webmaster (webmaster@pbxhawaii.com).
*NOTE – Do NOT register if you already attended PBX21. You can use your existing PBX registration to gain access to the event and view the sessions at no charge. Just visit https://app.expopass.com/events to login. If you don't remember your password, click on the "having trouble logging in" link to receive your MagicLink to regain entrance into the platform.
PBX21 Post-Event Registration Form
(only for those not previously registered for PBX21)
Sponsors & Partner Organizations