Become an Exhibitor or Sponsor
Get noticed. Sponsor or Exhibit at PBX22!
Reservations for booth space are now being accepted, and we hope your company will consider taking advantage of this exceptional opportunity to display your products to hundreds of architects, contractors, engineers, specifiers, developers, interior designers, and military and government officials we expect to attend. Reserve your space now and meet them face-to-face in one day!
The 220+ exhibit spaces are expected to sell out and will be assigned in the order that reservations are received. 
A variety of exhibitor "upgrades" are available to boost your company profile at the event and on the PBX website, giving you added promotional value for your investment. There are a limited number of these sponsorships available.
Don't miss out! Click on the button below NOW to learn more about these opportunities and to secure your booth space.  Should you have any questions, please contact Barbie Rosario at barbie@pbxhawaii.com.
Thank you for supporting Hawaii's construction and design industries. We look forward to seeing you this November at PBX22!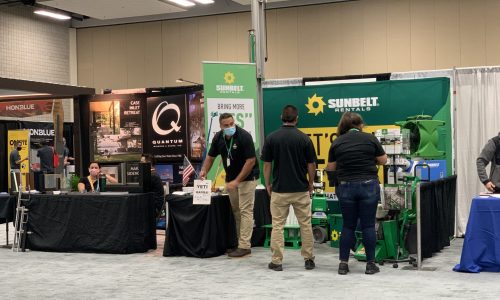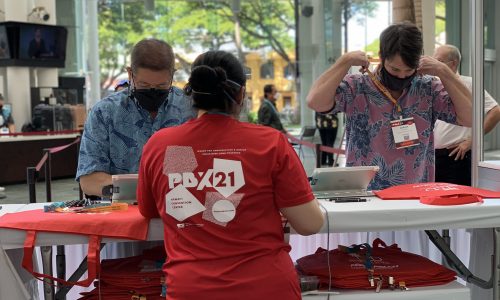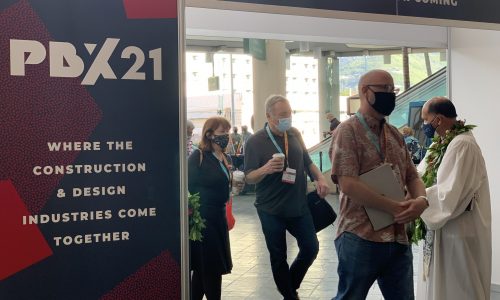 List of PBX22 Exhibitors
Registered attendees are encouraged to download the ExpoPass mobile app on the Apple Store or Google Play to get contact information and learn more about the exhibitors.
| Company Name | Booth Number |
| --- | --- |
| Aloha Marketing / Build Pono | D16P, E15P |
| ABT, Inc. - SportsEdge | C07P |
| Arcadia Inc. Hawaii | C40D |
| AED Institute | B46P |
| Bello's Millwork, Inc | C20P |
| Benjamin Moore | C39 |
| Better Business Bureau Great West + Pacific | F44P |
| CCPI | E45P, E46P, E47, E48, E49, E50 |
| HempBlock Hawaii LLC | D39P |
| ClarkDietrich | D22P |
| CO-HA Builders, Inc./Applied Surfacing Technology | C08 |
| Crossville | C33 |
| Ecoshade | C15P, C17P |
| AL13 Architectural Systems Inc. | F22P |
| Evergreen by Debra | D40, D42P |
| Armstrong Ceilings/Foundation Building Materials | F24P |
| Geotech Solutions, Inc | C28D |
| GPRM Prestress | E42P |
| Hawaii Architectural Sales | B04P, C03P |
| HPM Building Supply | F33, F35P |
| Hawaii Lighting Reps | D05P |
| Honblue | B12P, C11P |
| Honsador Lumber | F46P, F48P, F50P, F52P |
| Hope's Windows | C01P |
| Island Pacific Distributors | D04D, E03P |
| Kryton International | D51P |
| ISE Logik Industries, Inc. | D48 |
| Malarkey Roofing Products | E33 |
| James Hardie Building Products | D15P |
| JM Sales Hawaii | D46P |
| Miller Enterprises - Roofing and Waterproofing Products | E51P |
| Nanolumens | D20P |
| NorthClad | B45P |
| O'Hagin LLC | E24P |
| OK Hardware & Construction Supply | D50, D52P |
| Pabco Gypsum | D47 |
| Pacific Home & Appliance Distribution | E21P |
| Pacific Power Lift Doors | C16D |
| Peterson Sign Company | D35 |
| Polyglass USA | B27P |
| Polyguard Products - TERM Barrier Division | A39 |
| PPG Paints | E41P |
| Protecto Wrap | A12P |
| Quantum Windows & Doors | D19P |
| Nana Wall Systems, Inc | D17P |
| Reflections Glass | B38 |
| Regupol | E36P |
| RMA Sales | E11P |
| Roppe Corp. | E37 |
| Rockfon | C29 |
| CEMCO | F26P |
| Schluter Systems | D30 |
| Sherwin Williams Co. | F16P |
| Simpson Strong-Tie Company | D38 |
| Statewide General Contracting & Construction, Inc | D49 |
| Stego Industries | E52P |
| Strategic Building Products, LLC | B42P, C41P |
| T&T Tinting Specialists | F14P |
| Tri-West Ltd. | C06 |
| Tropical J's | F39P, F41P |
| Unistrut Hawaii | D37 |
| Velux America LLC | A43P |
| Williams Pacific, Inc. | C36 |
| Willis | F23P |
| Windward Equipment Rentals | D25P, D27 |
| Zurier/Kohler | B40 |
| Structural Systems Inc. & Kelikai Inc. | D26P, E25P |
| CENSEO AV+Acoustics | D28 |
| Solatube International | C04 |
| Surface Design | E20P |
| Klockner Metals | C09 |
| Lynden Door Inc. | A19 |
| Plastic Components | E16P |
| Sto Corp | F51P |
| Waltz Engineering, Inc. | F25P |
| Finance Insurance, Ltd. | A37 |
| Fry Reglet | A11 |
| Pacific Source | E40P |
| dormakaba USA Inc. | C10 |
| Ferguson Enterprise Inc. | A40P, A42D, B39P, B41P |
| Island Cooling LLC | D11P |
| CSI Honolulu | CSI |
| Kingspan Insulated Panels | C47P |
| Magnitude Lighting | D06P |
| Carlisle Construction Materials | F45P |
| Access Products / Ecoglo | D12P |
| Termimesh Hawaii | E39 |
| MP Lighting | D07P |
| Sika Corporation | D01P |
| Statewide Safety Systems | C45P, C46P |
| Daltile | D34 |
| Serge Ferrari Group | F40P |
| Mohawk Group | D32 |
| MAPEI | D36 |
| Automated Fenestration, Inc. | C38 |
| Hallmark/Teragren Bamboo/Arizona Tile | E34 |
| Inspired Play Hawaii | F18P |
| Focus Industries, Inc. | F38P |
| RW Supply/Tarkett | F49 |
| Cosentino | E04P |
| Bergeman Group | E26D |
| Breezway North America, Inc. | E30P |
| Front-Tek Technologies LLC | B02P |
| K2 Environmental Professionals LLC | D08P |
| Modern Mill | B15P |
| Tremco | D33 |
| U.S. CAD Hawaii | B19P |
| The Audio Visual Company | E10P, E12P, F09P, F11P |
| CertainTeed Exterior Products | A06 |
| CISEC, Inc./HDI | A35 |
| Guardian Glass | A05 |
| Raynor Hawaii Overhead Doors | D45P |
| Vaask | D03P |
| Sip Systems Hawaii | E27P |
| Rinell Wood Systems, Inc. | D31 |
| SCAFCO Steel Stud Company | A17 |
| Hicoustix | C27P |
| Noho Home Hawaii, By Jalene Kanani | C30 |
| Inpro Corporation | C31 |
| ASID Hawaii | F00P, F02P, F04P, F06P, F08P |
| Milliken & Company | C32 |
| Blaze.tech | B32 |
| AIA Honolulu | B11P |
| Hawaii Architectural Foundation | B05 |
| Construction Industry of Maui | B10 |
| Hawaii Steel Alliance | B33, B35P |
| Pliteq | D29 |
| Premier Restoration | F03P |